Earlier this month, the University held its this annual NUS Green Impact accreditation scheme awards ceremony. The event aims at acknowledging the hard work and sustained commitment of all those who have volunteered to join in with The Cambridge Green Challenge, helping to make a positive impact on the sustainability of our environment.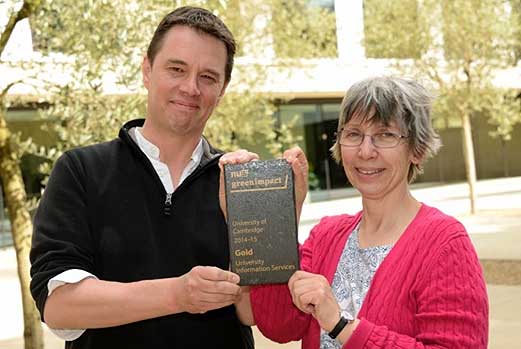 UIS was one of 11 University Departments achieving the highest accolade, a Gold Award, this academic year. Clare Bartlet and Al Kitching from UIS' Green Team attended the event to collect the award on behalf of the team.
As a Department that provides hosting and data processing services on a large scale to the University and beyond, we manage a lot of infrastructure requiring a lot of power. At a strategic level, we try to minimise our power requirements wherever possible.
An extreme example is the University's newly-opened data centre, which was designed from the outset to be as 'green' as possible, using innovative cooling technology to achieve an excellent Power Usage Efficiency (PUE) ratio that is close to that of major players like Google and Facebook, and to significantly reduce carbon emissions.
On a smaller scale, we aim to virtualise as many of our servers as possible, reducing the amount of hardware – and therefore power for operation and cooling – required. Over time, these small steps can help make a bigger impact.
UIS staff have also risen to the Green Challenge on a personal level this year, pitching-in to help the Green Team with various smaller projects to improve the environment and eco-system around the Roger Needham Building (RNB) and the West Cambridge Site.
One initiative rewarded people for getting into the habit of switching off their laptops and computers overnight by leaving a 'thank you' note and a chocolate on their desks – a nice gesture to come in to the next morning.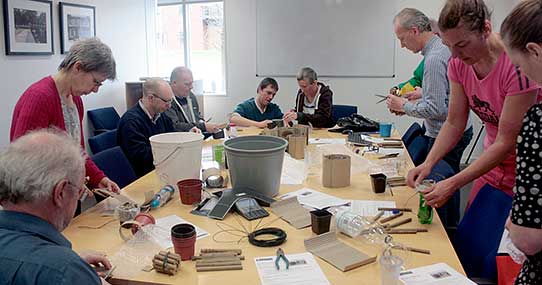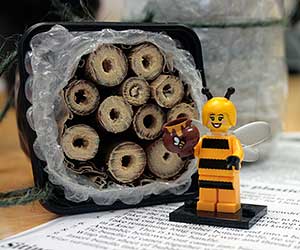 Another activity brought UIS staff together to make homes for our local bees – a very 'Blue Peter' way to spend a lunch break! As a result, the greenery around the RNB is now replete with bijou bee houses, ready for the West Cambridge bees to lay their eggs in, which will hopefully mean that there will be many more bees pollinating our trees and shrubs next summer.
Many thanks to UIS' Green Team for their enthusiasm, dedication and sheer effort throughout the year, and to all our staff that got involved with the challenge personally.
The Cambridge Green Challenge is open to departments, colleges, staff and students – find out how you can get involved next academic year:
http://www.environment.admin.cam.ac.uk/getting-involved/green-impact
See also:
http://www.environment.admin.cam.ac.uk/getting-involved/green-impact/2014-2015-award-winners