The University IT Service Catalogue was launched at a special event for the School of Arts & Humanities (SAH) on Monday 21 September.
Professor Martin Millett, Milly Bodfish, Dr Martin Bellamy, SAH Administrators and Computer Officers attended the event, which included a presentation from the project team, a demonstration of the beta IT Service Catalogue and a chance to provide further feedback.  
The Head of the School of Arts and Humanities, Professor Martin Millett commented, 'This is an extremely important moment for the School and the UIS in launching this pilot work. I am very pleased and very excited to be here at the launch of the beta Service Catalogue today.'
UIS embarked on a pilot project in January with the School of Arts & Humanities, to introduce a Service Portfolio and Catalogue. The Service Catalogue went live on 3 August 2015, and this is the first formal launch for users of the catalogue at the SAH.
The collaborative work of the project – both within the UIS and between the UIS and the School – has enabled both institutions to create a more coordinated approach to IT.
The project has been a model of the way in which Schools and the UIS need to work together in future. I am very grateful to the team who have been extremely good at consulting and finding out what people on the ground want.
Professor Martin Millett, Head of the School of Arts and Humanities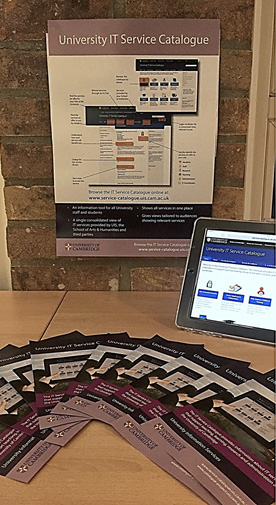 Andrew Cox, Project Manager for the IT Service Catalogue with SAH added, "The idea behind the project was to develop a complete menu of services to demonstrate what the School offers alongside what the UIS offer, and any additional third party services. We will be looking to take this forward with the School, and to maintain our good working relationship. We will continue to look at how services can be best delivered, to identify any duplicated services and to add any new additional services that UIS or the School may provide in the future".
Following the success of the pilot, the focus will increasingly shift to the further refinement of the service catalogue and its rollout across the collegiate University during the coming academic year.
The event was welcomed by all who attended. It allowed for the distribution of promotional material and further networking with SAH Administrators and COs.
A similar event will be held for UIS employees at a Staff Seminar on Tuesday 20 October. The seminar will focus on how the project was delivered, a demonstration of the catalogue and a chance to showcase all the hard work UIS have put into populating the catalogue with our services.
The IT Service Catalogue is found online at www.service-catalogue.uis.cam.ac.uk.