The West Cambridge Data Centre (WCDC) won the Public Service Digital Delivery Award at DatacentreDynamics's event for Europe, the Middle East and Africa (DCD EMEA).
The prestigious award is designed to recognise achievement in digital delivery models in Government and the public sector, which in many countries is the largest user of data centre services. The winner excels in demonstrating the leadership required to bring together and co-ordinate the disparate groups and stakeholders required to deliver a successful project. According to DCD, "today's finalists will be tomorrow's winners".
Ian Tasker, the Data Centre Manager, accepted the award on behalf of UIS and the broader University at the event at London's Royal Lancaster Hotel.
This is a fantastic achievement for the WCDC and recognises the innovative approach taken for designing an energy-efficient facility capable of supporting differing workload demands from all parts of the University.

Ian Tasker, Data Centre Manager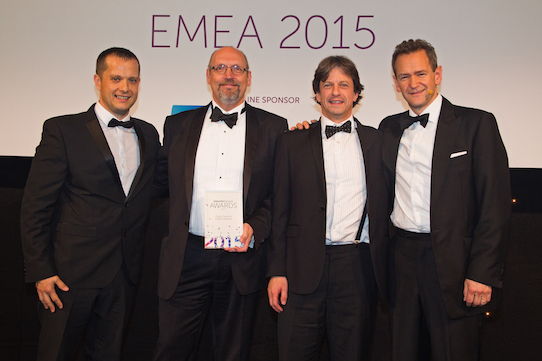 The WCDC officially opened on 19 March 2015, and is one of the UK's leading high-performance computing centres. It supports the ever-growing demands of the Cambridge research community. Its flagship projects include The Square Kilometer Array, the multinational Planck Satellite and the 20K Genome Project.