Microsoft released Windows 10 on 29 July. For the next year, it will be available as a free upgrade to every qualified device running Windows 7 or Windows 8.1, and it is now shipping with new PC hardware. 14 million users installed the upgrade within 24 hours of launch. UIS has put the new OS through its paces, and uncovered some issues that Cambridge users may want to bear in mind before deciding whether or not to join them.
Issues with PC hardware and drivers
Upgrading to Windows® 10 may not be an option for you, even if you have relatively new hardware. Some older Intel® CPUs cannot currently be upgraded to Windows 10, particularly 64-bit Windows 10.
This mostly seems to be a driver limitation, however. Drivers are not yet available for Windows 10 and many vendors are listing September as the earliest you can expect a driver update.
The best advice we can currently give is to wait: these issues should mostly be resolved over time, and the update is available free for a year.
How to check your system's compatibility
1) To check your system, right click the Get Windows 10 icon (on the right side of the taskbar) and then select Check your upgrade status: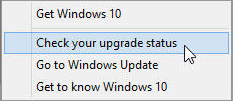 2) In the Get Windows 10 app, click the hamburger menu (a stack of three lines) and then click Check your PC: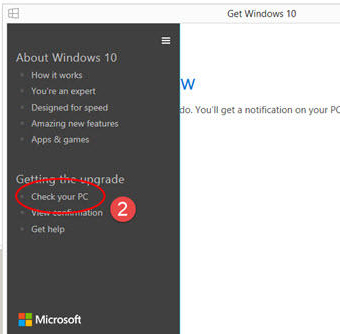 3) After the system check has completed you will see a list of potential compatibility issues, e.g.:
If your system has issues, you will have to find out about driver updates. Some manufacturers have published specific installation instructions and/or information about Windows 10 compatibility with their hardware, so check your hardware manufacturer's website before upgrading.
Some other modern Intel chipsets are also known to have problems (e.g. machines bought within the past year using the Broadwell chipset). You should consult your local IT support or the UIS Service Desk for advice if needed.
Problems with Virtual Machines
Some virtual machines (VMs) may give errors when you try to upgrade to Windows 10. There have been known problems with Virtualbox and VMware. Quite often this is to do with graphics drivers (or lack of them with Windows 10). These will, presumably, be sorted out over time and the solution (as above) is to hold off updating until the issue is resolved.
The upgrade
Assuming that your system passes the upgrade check you can proceed to install the upgrade. This will take some time, and for most people will be problem-free.
But of course there are problems. Some of the most common issues encountered are detailed on many technical websites, assuming you have the luxury of a second computer to look things up if your upgrade fails badly...
Common errors and how to fix them
Get help with Windows 10 upgrade and installation errors
Rolling-back the upgrade
If you do decide that Windows 10 is not for you (yet), you can choose to roll-back to your previous version, but only if you meet the following criteria;
You performed an upgrade, not a clean install

The Windows.old folder is still on your hard drive, with all its contents

Less than 30 days have passed since you did the upgrade.
It is important that you perform an upgrade if you want to have any chance to roll-back if something goes wrong. You also only get 30 days from your upgrade to roll-back, so bear that in mind when deciding whether to roll back or not.
For those with pressures on hard drive space, the Windows.old folder is also a consideration since the size of this folder will run to many gigs – this shouldn't be a problem for most new-ish desktops, but laptops may have more storage space considerations.
Detailed information is available from https://techingiteasy.wordpress.com/2015/03/24/how-to-rollback-to-a-previous-version-of-windows-from-windows-10/. If you decide within the 30 days to roll back, you can find the option under:
All Settings > Update & Security > Recovery.
Default settings and privacy
Much has been made of the potential for data mining available in Windows 10. Microsoft® have changed their terms and conditions with this release of Windows to be more in line with the Terms and Conditions of Windows Mobile.
Most of these features and settings are on most smartphones, many people leave them enabled to get the most from their device, for example, where location tracking being used by several apps. If you use the express setup, many settings will be enabled that you might not want, unless you want to make use of Cortana (more on 'her', later) or other things you are used to on your mobile device.
When you are offered the chance, you can choose to customise your settings and disable many of the features which have caused some concern. For the full set of potential settings you need to wait until Windows 10 is running before you can tweak all the options.
The How-To Geek website covers these privacy options in detail should you be interested.
If you are worried about setting these options, here is another guide to turning off access to your personal data.
Network settings and access issues
Wifi and network access issues
Some users are reporting that their device drops wifi or shows no wifi available after the upgrade. According to Microsoft, the wifi problem is triggered by unsupported Cisco VPN software being present during the Windows 10 upgrade. Older software versions contain a Filter Driver (the Deterministic Network Enhancer) which is not properly upgraded. Fortunately, there is a fix available.
For Cambridge users, there are Windows 10 eduroam connection settings. (Note that Windows Mobile 10 is not due for release until December 2015.)
Network security settings have changed
The new version of Microsoft wireless networking known as Wi-Fi Sense has the ability to 'share' your wireless networking with all your Outlook, Skype and Facebook contacts who also have Windows 10.
To switch this off go to:
Settings > Network & Internet > Wi-Fi > Manage Wi-FI Settings
and untick the boxes as shown here:
Cortana
Microsoft's personal digital assistant, Cortana (akin to Apple's Siri), is built into Windows 10. The more of your data you allow Cortana to access (e.g. emails, texts and calendars), the more your device can do for you in terms of reminders, scheduling and suggestions.
You will, however, also be giving Microsoft access to your personal information, so it's really a trade-off between your privacy and the additional functionality Cortana gives you.
The information is stored as a cloud service allowing you to switch device(s) and keep the same features you are used to. You only need to enable some of the privacy settings previously mentioned if you want to make use of Cortana.
This How-To Geek article explains how to get the most from Cortana.

Browsing problems in Edge
Users are reporting that they can't use their usual add-ins with Edge (Windows 10's new browser).
For University users, this can be a problem (for example with programs like CUFS or CamSiS). There isn't much information available in this area at the moment, but using the legacy Internet Explorer 11 browser (you will get a pop-up asking you if you want to) will mean you can still access these systems.
Web developers will be interested to learn that Microsoft is finally moving towards supporting internet standards, as developers are increasingly reluctant to design for proprietary standards that required users to download plug-ins, such as Adobe's Flash® and Microsoft's Silverlight.
Microsoft has confirmed that Edge will not support either Silverlight or ActivX controls, prompting big players like Google to start removing support for Silverlight, and a number of popular media contnet sites, including Now TV, Sky Go and BT Sport, have started 'misbehaving', as they relied on Silverlight for DRM.
What news for PC gamers?
And finally, down to the really important stuff: "My games have disappeared!" we hear you cry.
Yes, it's true that Windows 10 will remove the old well-known suite of games (including Solitaire) during the upgrade. However, most of them can be downloaded again from the Windows App Store. You should probably be aware that the Windows 10 version of Solitaire is available by subscription (not free) and the Windows 10 version of Minecraft currently only works on 64-bit Windows machines.
The plus side, however, is that Windows 10 and the Xbox will in future share the same codebase, making Windows 10 a much better bet for serious PC gamers than previous versions. So, all's well that ends well...
Further Help:
For technical help please consult the UIS Service-Desk.
For help with purchasing Windows 10 for University-owned PCs, email software-distribution@uis.cam.ac.uk
See also:
Microsoft's Windows 10 FAQs and tips