At the end of June we made our 300th Falcon site live, with a further 70 sites in development.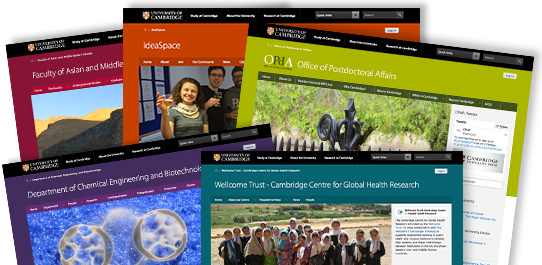 The Falcon content management system (CMS) offers a straightforward, self-service way of building a website using the University templates. UIS takes care of the hosting and deployment of your Falcon website, leaving you free to concentrate on the content.
Benefits of switching to Falcon
Low cost, reliable web hosting
Quick set-up
Lends credibility by using the widely-recognised University template
Automatic CMS upgrades
Built-in Raven authentication
Content editors don't need to be web developers
Free, regular, local training – for absolute beginners to advanced Falcon users
Falcon technical support – by email or in person
Falcon website migration service (paid for)
Cost-effective websites
Sites pay a modest annual charge of £100 including the hosting and managed CMS service, payable only once the site is made live.
If staff time is available we offer – at very reasonable rates – a service populating new sites and migrating content from existing websites.
Who's using it?
Some of the recent sites to go live have included:
As well as being ideal for departmental and institutional sites, Falcon is especially convenient for cross-departmental or cross-institutional sites, for dedicated conference and event websites, and sites for research groups.
Find out more...
Find out more about switching to Falcon, or email the Falcon support team at falcon-support@uis.cam.ac.uk.