Towards the end of last year, UIS launched its pilot 'Bright Ideas' project, through which it aims to explore how technology can be used to encourage collaboration. A campaign aimed at the university's 900-strong IT community appealed for IT-related ideas that could improve the learning and working environment for everyone at the university.
Crowdsourcing creativity
As well as giving us a chance to test this as one way for UIS to engage with the wider university IT community, the project also provided an opportunity to demonstrate how the Department can harness virtual technology to help realise change in the physical world.
The project is based on the principle of 'crowdsourcing', or, distributed problem solving. By distributing tasks to a large group of people, you are able to mine collective intelligence, assess quality and process work in parallel.
Many people are now familiar with crowdsourcing as a method of generating project funding – indeed, it was used to great effect by President Obama, during his first Presidential election campaign, where sizeable funds were raised from many modest online donations by individual supporters. It can also be a powerful tool to source and generate creative content, however, whether that's in the form of ideas and feedback, or contributing creative effort/talent to a community project.
The University's Bright Ideas campaign website is built on the Ideascale solution, which bills itself as "an innovation management platform that uses crowdsourcing to help you find and develop the next big thing".
This pilot project will allow UIS to evaluate the online service itself, and explore how it might be applied to useful effect within the federated University structure. The site lets users create an account, add, comment and vote on ideas, and features a 'leaderboard' of highest-rated contributors to encourage sustained participation.
Winning ideas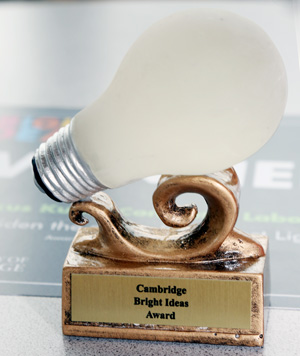 For the inaugural Bright Ideas campaign, UIS chose to target the 900-strong Cambridge IT community with a technology-focused issue: "affordable ideas that would make a difference to the tech community and the University". From the suggestions contributed, the judging panel of UIS senior leaders chose three ideas to pursue:
Markus Kuhn from the Computer Lab suggested widening the scope of 'Project Light' web design templates.
"It [the Project Light template] is not yet very usable for web applications and pages with long, technical text (wide tables, etc.), where considerable less space should be occupied by surrounding style elements, such as headers, footer, and navigation menus… It would be nice if Project Light would not be considered finished once it it satisfies the needs of the Communications Office and the http://cam.ac.uk/ site, but continues to be developed into a general-purpose web style with broader applicability for the full range of web-page types found across university web sites."
Alastair Downie, IT Manager at the Gurdon institute, suggested a University-wide CO mentoring/shadowing scheme:
"For lone COs, new COs, or anyone else feeling isolated or overwhelmed, a mentoring scheme might be a good way to share difficulties and get back on track… A 'shadowing' scheme might be useful, to give COs an opportunity to passively watch others at work for a day (or two), and take away ideas that will improve their own service."
Rob Lewis, CO in the Faculty of Human, Social and Political Science, had green issues on his mind, suggesting that there should be a laserjet/inkjet toner cartridge recycling facility on the New Museums/Downing Sites. This would save people time in disposing of used cartridges, encourage responsible disposal, and could even raise some funds where cartridges retain a residual value.
A low-key presentation ceremony was held at UIS to present the three winners with a £25 John Lewis voucher and a certificate, and a trophy featuring a light bulb went to Markus Kuhn, for submitting the best idea. The awards were made by Martin Bellamy, UIS' Director.
From idea to reality
As a result of the campaign, UIS' Ed Webster will be taking forward the mentoring/shadowing scheme, as part of his wider work looking at how UIS can better engage with other technical staff to help build a peer community within the University.
UIS' Build and Development division will be looking at incorporating bug reports and change requests into the central repository for Project Light, and to look into extending the scope of the template to include a broader set of use cases.
Our Internal Operations team will work with Estates to set up a pilot Laser/Inkjet cartridge collection point at the New Museums site and report on its utilisation after 12 months.
Current campaigns
The pilot project continues, with two more discrete campaigns planned as part of the initial evaluation phase. The website's two current campaigns will run until 31 May 2016. We'd love to hear your thoughts - whether submitting an idea yourself, or entering the debate about the ideas already put forward:
Collaborate IT - for a more integrated IT community
Ideas for building a more collaborative Cambridge
Open Mic IT
Anything goes: any idea that benefits the University, e.g.  events, outreach, cost-savings, professional development, innovation, technology or improving the student experience.
Ideas currently submitted include a University of Cambridge Staff Charge Card for use in vending machines, Cambridge's own 'Borys Bikes' scheme, using YouTube-style demonstration clips for in-house training, hosting a Cambridge IT 'hackathon' event, and solutions for sufferers of Misophonia.
Why not spend a couple of minutes looking through the comments and adding your thoughts – or better yet, an idea of your own.
The Bright Ideas website is at: https://cambridgeuniversity.ideascaleapp.eu
Further information
Bright Ideas community website